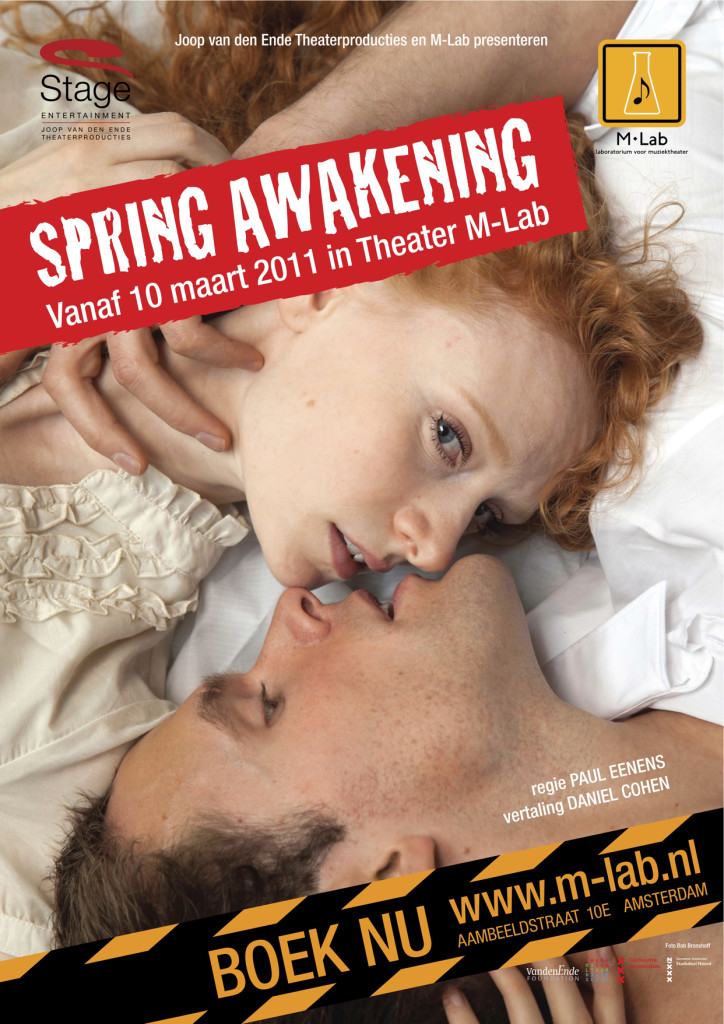 Back
Spring Awakening
Opening night: 14 March 2011 M-Lab, Amsterdam
For this production Daan received a Musical Award: Best Choreography.
Reviews
… "With its sparkling inventive choreographer Daan Wijnands, "Spring Awakening"  is a genuinely compelling, open show." … (Dagblad van het Noorden – Jacques d'Ancona)
Story
Spring Awakening is a rock musical with music by Duncan Sheik and a book and lyrics by Steven Sater. It is based on the controversial German play Spring Awakening (1891) by Frank Wedekind which was banned in Germany for some time due to its frank portrayal of abortion, homosexuality, rape, child abuse and suicide. Set in late-19th century Germany, the musical tells the story of teenagers discovering the inner and outer tumult of sexuality. In the musical, alternative rock is employed as part of the folk-infused rock score.
This particular musical was already performed in over 18 countries, including VS, Sweden, Finland, Australia, England, Hungary, Austria and Japan.  On March 10th 2012 finally a new, Dutch version was produced in Amsterdam.  Spring Awakening is based on the play by Frank Wedekind Frühlingserwachen from 1891.
For this production of Spring Awakening Daan received the John Kraaijkamp Musical Award: for Best Choreography / Musical Staging 2011.
Cast
Henriette Tol – Adult Women
Ad Knippels – Adult Men
Ton Sieben – Melchior
Michelle van de Ven – Wendla
Jasper Stokman – Moritz
Lisa Berendse – Ilse
Desi van Doeveren – Thea
André Haasnoot – Otto
Annemarieke Leurs – Anna
Tim Van Peteghem – Hänschen
Bart van Veldhoven – Georg
Robin Virginie – Martha
Martijn Bird – Ernst
Band
Frank van  Heemskerk – Piano
Daniel van Dalen – Drums
Lucas Meijers – Guitar / Bass
Robert Orvalho-Violin
Creatives
Book & lyrics – Steven Sater
Music – Duncan Sheik
Director – Paul Eenens
Translation – Daniel Cohen
Musical direction and arrangements – Frank Heemskerk
Choreography – Daan Wijnands
Lighting design – Uri Rapaport
Sound Advice – Jeroen Bas
Costumes – Joost van Wijmen
Costume Realisation – Bo Mulder, Lisa Louwers and Joke Willemsen
Producer: M-Lab & Stage Entertainment
Back