INFO
Daan has worked as a freelance choreographer since 2005 in numerous productions and has in recent years extended his expertise to staging. His work has come to comprise more than choreography alone; he also creates movement-scenographies for actors and singers in a wide variety of (musical) theatre.
He is best known for his award-winning and acclaimed work in the Dutch hit productions: Hello, Dolly!, All Stars, De Marathon, Hij Gelooft in Mij, Showponies, Ciske de Rat (2016) and De Gelaarsde Poes.
Education
Daan was born in Eindhoven (The Netherlands) on March 12, 1970.  After his highschool Daan started his education for jazz theater and musical dance at the Amsterdam School of the Arts.
Dancer
Djazzex –

Modern Jazz Dance Company
After his training he received an one year internship at the former Den Hague dance company Djazzex Modern Jazz Dance Company, followed by a permanent contract.  He stayed for more than 4 years with the company and danced some memorable ballets like in 1994 "Movement No.7" by the in-house choreographer Glenn van der Hoff for which the music was composed by world famous saxophonist David Liebman who performed personally at the Opening Night in The Hague. During the season '95 / '96 there was a special program in cooperation with the Willem Breuker Collective.
During these years with Djazzex ('92 – '96)  Daan worked, besides the house choreographers Glenn van der Hoff and Neel Verdoorn, with choreographers such as: Feri de Geus (Coup d'Amour), Marcelo Evelin, Antony Rizzi (Frankfurt Ballet), Mark Bruce and Patrick Delcroix (Netherlans Dance Theatre)
West Side Story
After four years with Djazzex Daan was ready for something different, a new challenge. In 1996 he auditioned for the musical West Side Story (Stage Entertainment) and was engaged to play the part of Riff, the leader of the Jets and became dance-captain aswell. The production was a great success: more then 500 performances throughout the country. During West Side Story, Daan got acquainted with the work of choreographer Jerome Robbins. From that moment on Robbins has always been an important inspiration for Daan in his later work as a choreographer.  More info
Anatevka 

(Fidler on the Roof)
His second musical, in which Daan was part of the ensemble and dance-captain, was Anatevka / Fidler on the Roof (Stage Entertainment)
For the film Fidler on the Roof it was again Jerome Robbins who was responsible for the cheography and served as an inspiration for Craig Revel Horwood, the choreographer for the Dutch production Anatevka.  More info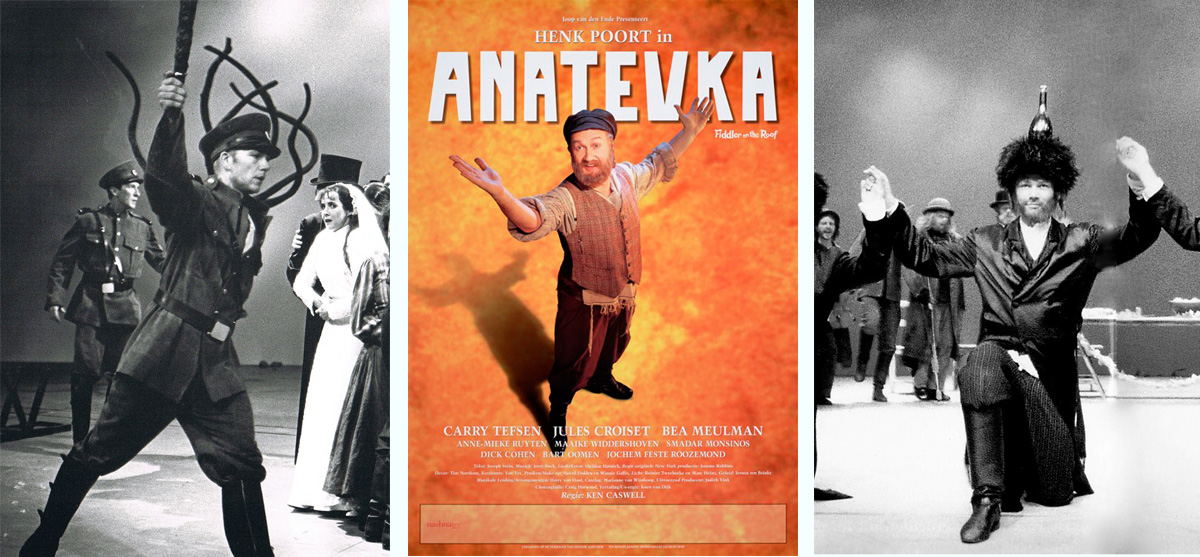 Chicago 

(Utrecht – The Netherlands)
The musical Chicago (Stage Entertainment) was the grand opening of the new Beatrix Theater in Utrecht. The choreographer of the musical Chicago, Ann Reinking, personally rehearsed with the cast of the Dutch production.  For his part in Chicago, Daan received a John Kraaijkamp Musical Award in the category of 'upcoming talent'.  More info
Chicago 

(West End – London)
In 2001 Daan was invited to participate in the West End production of Chicago (Barry and Fran Weissler) and worked with a number of renowned artists including: Denise van Outen, Marty Pellow, Alison Moyet, Clive Rowe, Claire Sweeney, Sue Kelvin and Leigh Zimmerman.  More info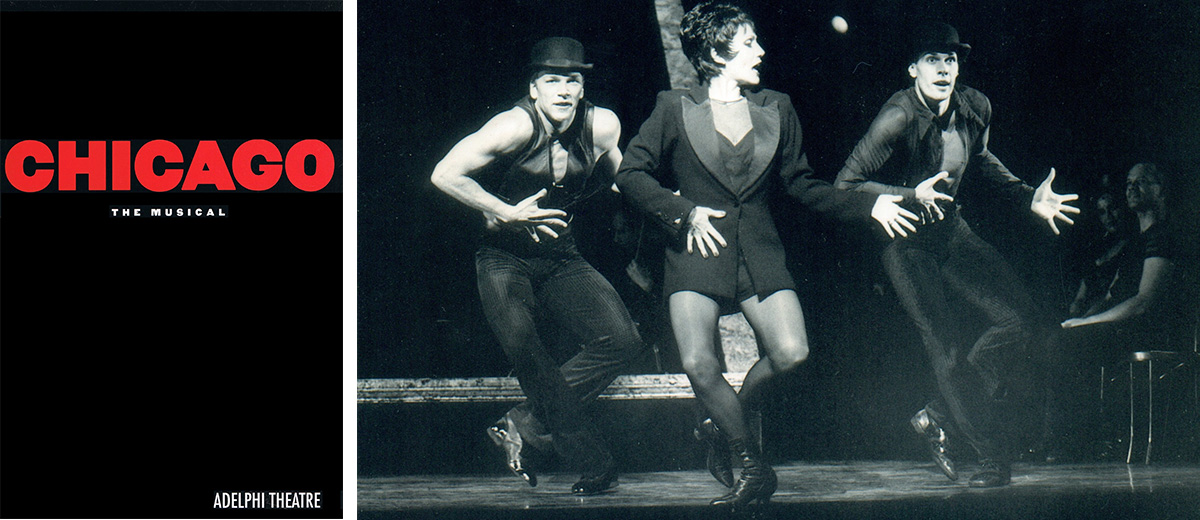 3 Musketiers
After auditioning for fight choreographer Malcolm Ranson in London, Daan joined the original Dutch production 3 Musketeers (Stage Entertainment) in the position of Fight Swing. This meant that he was only on stage during the sword fights.
3 Musketeers was seen exclusively in the New Luxor Theatre in Rotterdam.  More info
Crazy For You
2004-2005 season was completely dominated by the musical Crazy for You (Stage Entertainment). A Gershwin musical with choreography by Susan Stroman.
Daan calls it a great privilege he was given the opportunity to perform in choreographies by Jerome Robbins, Bob Fosse and Susan Stroman. Each with their own distinctive style:  Robbins as a master in telling the story through dance, Fosse with his "less is more" and Stroman who revived in Crazy Fo You the days of Gene Kelly through her large theatrical production numbers.  More info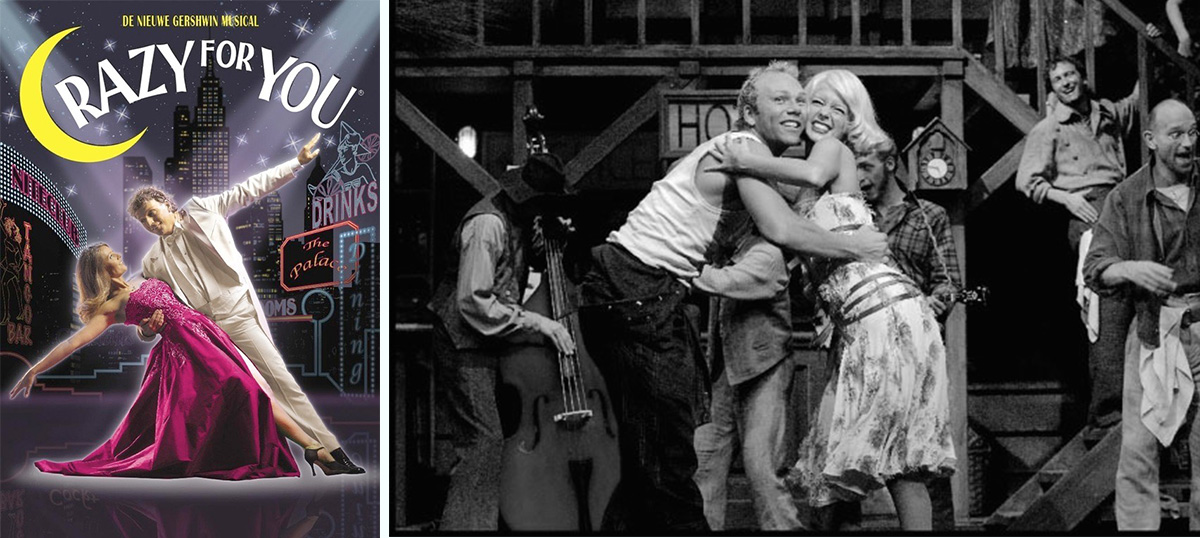 Simone – Songs From The Heart
Although Daan already worked for several years as a choreographer and as such was involved in the new show of Simone Kleinsma Simone, songs from the heart (Stage Entertainment), he returned on stage once again as a performing artist in 2008. Together with colleague Joost de Jong, with whom Daan worked during his first musical production West Side Story, they appeared on stage as the Personal Assistants of leading lady Simone.  More info

Choreographer
In 2005 Daan was given the opportunity to choreograph the Dutch production of Jesus Christ Superstar (Stage Entertainment). This was the start of his new career as a choreographer. His experience as a performer, dancer and choreographer, are important elements in his development as a creative. All the choreography credits can be found under the headings "Musical", "Theatre" and "Projects" on this site.
Television
Besides his work in the theater, Daan played as guest actor in the television series: Charlie, Gooische Vrouwen, Kinderen Geen Bezwaar, Oppassen, Westenwind, Kees & Co and Goudkust.