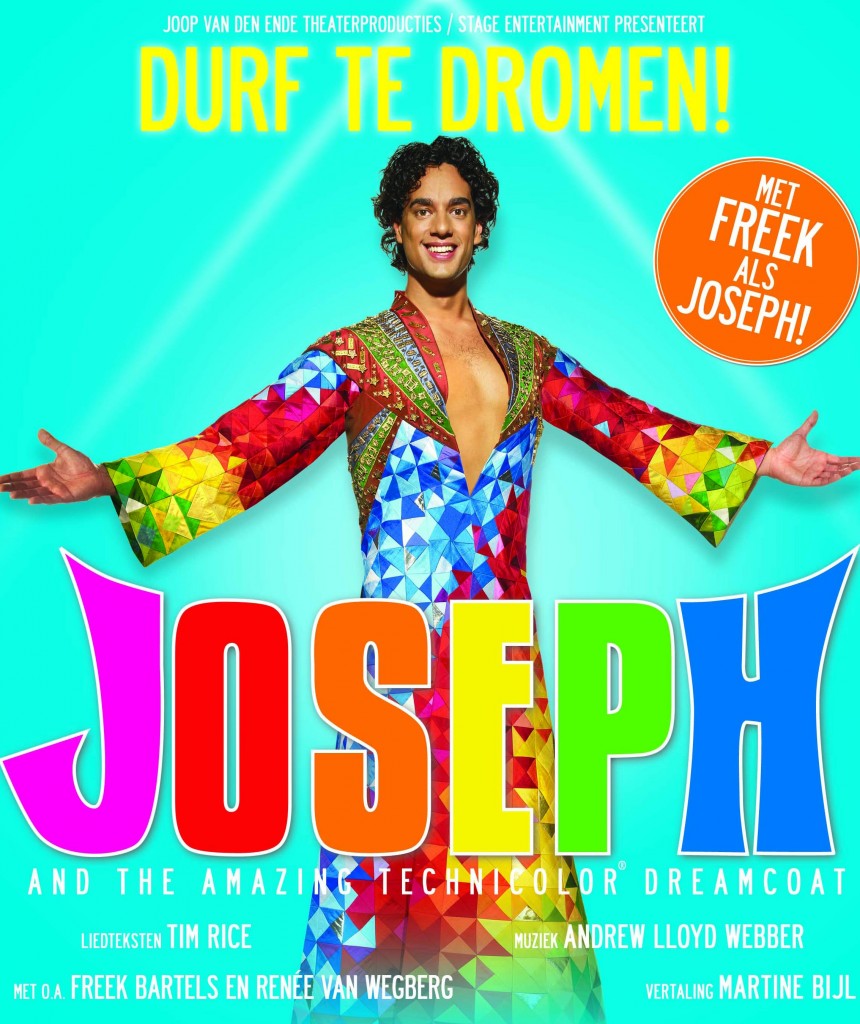 Back
Joseph
Premiere: December 12, 2008 Beatrixtheater, Utrecht
Story
The musical is inspired by the famous story of Joseph in ancient Egypt, in which he develops from being his father's favorite to Viceroy of the country. Joseph was sold by his eleven jealous brothers into slavery. Eventually he ends up in jail. He shows that he has a special gift: Joseph can interpret dreams. When the Pharaoh is troubled by a bad dream, Joseph explains his dreams, reassures him and give him good advice. To thank him, Pharaoh made him Viceroy of Egypt. Then he sees his brothers after all those years and puts them to the test.
A timeless story about growing up, jealousy and forgiveness. All this in a lavish way with humor and music. Rock 'n Roll, Calypso, Disco and many more; JOSEPH and the Amazing Technicolor Dreamcoat is the only musical world with so many different styles of music!
Together with Stanley Burleson Daan was nominated for this production of JOSEPH and the Amazing Technicolor Dreamcoat for a John Kraaijkamp Musical Award: for Best Choreography / Musical Staging 2009.
Cast
Freek Bartels – Joseph
John Vooijs – alternate Joseph
Renee Wegberg – narrator
Leo Hogenboom – Jacob, Potiphar
Paul Walthaus – Pharaoh Levi
Yves Adang – Benjamin
Robin van den Akker – Issachar
Stanley Alejandro Clementina – Judah
Hein Gerrits – Asher
Bass Grevelink – Simeon
Lonneke van Hinnen – Wife of Asher
Renske Hoeksema – Wife of Levi
Danny Houtkooper – Gad, Backer
Laurie van Iersel – Wife of Issachar
André de Jong – Naphtali, Butler
Britt Koole – Wife of Naphtali
Michael Macalintal – Dan
Salome Mayland – Wife of Simeon
Hannah van Meurs – Wife of Dan
Margriet Middel – Wife of Zebulun
Mathijs Pater – Zebulon
Rutger le Poole – Ruben
Vannessa Timmermans – Mrs. Potiphar, Wife of Reuben
Loes Ackermann – Swing
Tabi Awan – Swing
Golda Doof – Swing
David Eisinger – Swing
David de Noten – Swing
Creatives
Lyrics: Tim Rice
Music: Andrew Lloyd Webber
Translation: Martine Bijl
Director: Paul Garrington
Choreography: Daan Wijnands & Stanley Burleson
Musical director: Marcel Visser
Set Design: Eric Goossens
Costume Design: Cocky van Huijkelom
Wigs and Makeup: Sjoerd Didden & Harold Mertens
Lighting Design: Henk-Jan van Beek
Sound Design: Jeroen ten Brinke
Producer: Stage Entertainment
Back