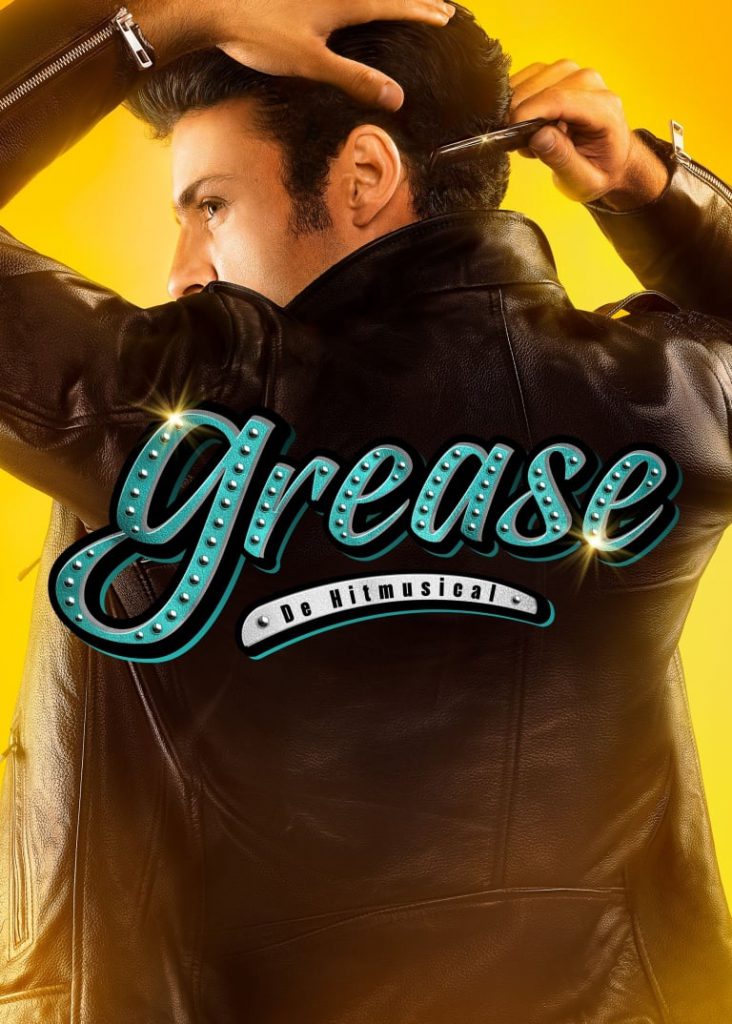 Back
Grease
Opening night Grease: 3 april 2023 De La Mar Theater, Amsterdam
For this production Daan received a Musical Award: Best Choreography.
Review Quotes:
"But the best are really the big dance scenes, with smashing group choreographies by Daan Wijnands. They give the performance the much-needed energy and keep things going." (Telegraaf – Esther Kleuver)
"The greatest asset of this Grease are the choreographies by Daan Wijnands. He lets the more than 25 actors fly, run, turn, swing, accelerate and slow down across the stage in strikingly dynamic patterns." (Trouw – Bianca Bartels)
"…contagiously playful choreographies by Daan Wijnands…" (NRC – Elisabeth Oosterling)
"…the production comes to life, in the group numbers, with an energetic group of dancers and a series of creative dance steps by choreographer Daan Wijnands." (Volkskrant – Joris Henquet)
"… super energetic choreography by Daan Wijnands." (Parool – Patrick van den Hanenberg)
"Musical 'Grease' mainly relies on the explosive dance scenes by Daan Wijnands" (De Limburger)
"…partly thanks to a nice choreography by Daan Wijnands…" (Metro – Erik Jonk)
"It also becomes clear that the star of this performance is not on stage: Daan Wijnands. He is a man of prestige in his profession and confirms his reputation with dazzling dynamics and spectacular, off-the-rails explosions in the dance numbers." (Dagblad van het Noorden – Jacques D'Ancona)
"This production features a refreshing new choreography by Daan Wijnands !
Choreographer Daan Wijnands (with assistant Eline Vroon) has outdone himself and created a brand new world of Grease. All choreo is new, which is a breath of fresh air to not having to watch the same old dance routines again. It's a wonderful tribute to the enormous legacy of the show, yet in a brand new (leather) jacket." (Broadwayworld – Chantal Kunst)
Grease
Grease tells the story of teenagers Danny and Sandy who are unexpectedly reunited after a summer romance when Sandy transfers to Rydell High for her senior year. Danny soon turns out not to be the sweet boy of the summer, but a member of the T-Birds who mainly wants to appear tough to his friends. Sandy tries to change and joins the Pink Ladies. A dance competition is supposed to bring the two lovers back together, but for how long? Will they survive the trials of teenage life and find true love again?
Cast:
Danny: Tristan van der Lingen
Sandy: Danique Graanoogst
Vince Fontaine / Teen Angel: William Spaaij
Miss Lynch: Marjolijn Touw
Rizzo: Esmée Dekker
Kenickie: Jonathan Vroege
Doody: Jules Avery
Roger: Gino Korsèl
Sonny: Beau Jones
Eugène: Luuk Haaze
Frenchy: Cheyenne Latul
Jan: Maxime Karsten
Marty: Joanne Rozal
Patty Simcox: Kaylee Peters
Cha Cha: Elise Wanner
Ensemble: Sem Bach / Justin van de Ven / Davy Reedijk / Djin Kastje / Manon van Riel / Imahni Tsolakis
Swing: Swen Overman / Davy van der Lubbe / Isabelle Verhoeven / Lysanne van der Sijs
Creatives:
Script, Music and Lyrics – Jim Jacobs & Warren Casey
Director – Servé Hermans
Choreography – Daan Wijnands
Associate Choreographer – Eline Vroon
Translation – Allard Blom
Light design – Marc Heinz
Sound – Maarten Houdijk
Hair & Make-up – Sebastiaan van der Ham
Music arrangement – Ad van Dijk
Musical director – Marco Braam
Set & Costume design – Joris van Veldhoven
Assistant costume design – Anouk van Schie
Props – Leanne Prins
Resident Director – Jerrel Houtsnee
Assistant director – Margot van Deursen
Dramaturge – Ludo Costongs
Casting Director – Bram Verhaak
Technical supervisor – Jeroen Frijters
Company Management – Rudy Hellewegen
Producers – Albert Verlinde, Matthijs Bongertman, Jacco Kaasschieter
Back