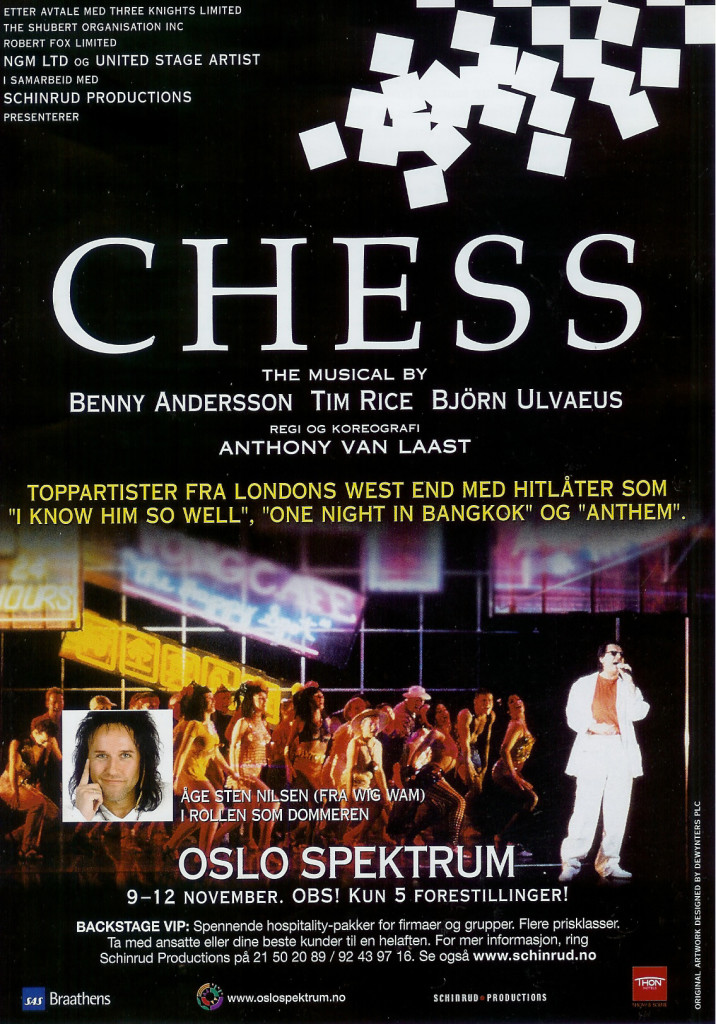 Back
Chess
Opening night: November 9, 2006 Spectrum, Oslo
Story
Chess is a political musical set during the Cold War, which focuses on the rocky relationship between the USA and the Soviet Union. It begins in Merano, where spoilt American Freddie Trumper is preparing for a chess final against Russian Anatoly Sergievsky, supported by his second, and lover, Florence Vassy. During the game, Freddie storms off, and Florence is left to sort out the situation. Seeing this as a Soviet victory, Anatoly's second, Molokov, arranges with Florence that the champions should meet to resolve their differences.
The following day only Florence and Anatoly meet at the rendezvous point, where they are attracted to each other. Freddie bursts in on the pair, and is disgusted that his lover is fraternizing with the enemy. Florence, who is sick of his childish outbursts, leaves Freddie for good, both professionally and personally, and embarks on a relationship with Anatoly. Anatoly defects from the Soviet Union and earns his freedom from its control. A year later, Anatoly goes to Bangkok to defend his title against the new Soviet challenger. Florence is troubled that Anatoly is married, even though his wife is not around. Molokov goes to see him, and insists that he throw the game to ensure a Soviet win, and Anatoly's return to Russia. Molokov flies in Svetlana, Anatoly's wife, to convince him.
He also contacts Freddie, telling him that he has information regarding the Florence's father, who went missing when she was young. Freddie tries to get back with Florence, but she wants nothing to do with him. She is stressed about the presence of Svetlana, and Anatoly is too preoccupied to support her. He decides that he must throw the game so that Florence can find out about her. He makes a wrong move, and the Soviet challenger wins. Anatoly returns to Russia with Svetlana, having done a good deed for the woman he will always love. The play ends with Molokov revealing that he never had any information on Florence's father to begin with.
Cast
Åge Sten Nilsen – The Arbiter
David – Shannon – Anatoly Sergievsky
Sean Kingsley – Frederick Trumper
Linzi Hateley – Florence Vassy
Michael McCarthy – Alexander Molokov
Carmen Cusack – Svetlana Sergievsky
James Spilling – Walter De Courcey
Ensemble
John Addison, Gary, Amers, Derek Anddrews, Michael Broughton, Amanda-Jane Callagham, Chris Ellis-Stanton, Daniella Gibb, Tomos Griffiths, Kristin Hellberg, Melissa Jacques, CJ Johnson, Daniel Koek, Tim Laurenti, Elia Lo Tauro, Stephen McCarthy, Rhona McGregor, Emily Mascarenhas, Natalie Moore, Brenda-Jane Newhouse, Kelly O'Leary, Yvette Robinson, David Stothard, Jennifer Tierney, Jonathan Williams.
Creatives
Director & Choreographer: Anthony van Laast
Associate Director & Choreographer: Nichola Treherne
Assistant Choreographer & Resident Director: Daan Wijnands
Musical Supervisor: Stephen Brooker
Musical Director: Björn Dobbelaere
Producer: Nick Grace Management
Back