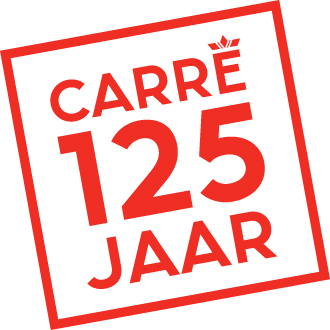 Back
Carré 125 years Jubileegala
Jubileegala 3 april 2013 Royal Theatre Carré, Amsterdam
A musical tribute to a historic and magical theater, to the countless artists and spectators who were enchanted, the many and various styles and colors of a unique place.
Composition: Madeleine van der Zwaan & Paul Eenens
Direction: Paul Eenens
Staging: Daan Wijnands
Light: Marc Heinz
Sound: Jeroen Bass
Production: Ine de Boer & Danielle Kersten (Eigen Naam BV)
Metropole Orkest – Proloog: Een Ballonnetje & Dit is een plek om lief te hebben.
Karin Bloemen – Clowns van Carré (Specially written by Koen van Dijk – to the music of "Send in the Clowns")
Renee Froger – Aan de Amsterdamse Grachten
Karin Strobos – My Man's Gone Now (from the opera opera "Porgy and Bess")
Het Nationale Ballet – Trois Gnossiennes (Choreography: Hans van Manen, danced by: Casey Herd en Igone de Jongh, piano: Olga Khoziainova)
Claudia de Breij – Mag Ik Dan Bij Jou
Liesbeth List – Heb Het Leven Lief
Henny Vrienten & Freek Bartels – Aan De Trapeze (accordeon: Gert Wantenaar)
Metropole Orkest – Oscar (Specially composed for this Jubilee by: Henny Vrienten)
Wende – De Werled Beweegt
Marco Borsato – Margherita
Herman Finkers – De Auditie
Frank Sanders & Co – Moeder Ik Wil Bij De Revue (Together with 14 students from the Frank Sanders Akademie, choreography: Daan Wijnands)
Simone Kleinsma – Alsof Ik Nooit Meer Weg Zal Gaan (from the musical "Sunset Boulevard")
Vera Mann & Paul van Vliet – Sou Dat Niet Salig zijn / Ik Voel Opeen Dat Ik Haar Mis )from the musical "My Fair Lady")
Paul Van Vliet – Misschien Vannacht / Er Is Nog Zoveel Niet Gezegd / Ik Drink Op DE Mensen (piano: Klaas van Dijk)
Finale – Een Ballonnetje & Dit Is Een Plek Om Lief Te Hebben.
Back